Deposit & Transfer in Order Book Follow
At the bottom of the Order Book are the Deposit and Transfer buttons.
If you need to quickly fill up your futures wallet balance (on the point of liquidation), you can use the button to help you.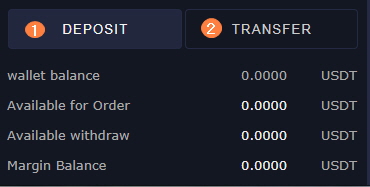 1. Deposit
2. Transfer
Quickly transfer Spot USDT to Futures USDT
If you use the Binance API farm, you can experience the rapid processing as fast as light speed by transferring BTC or USDT stored in the Binance wallet.